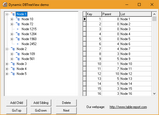 To use the DTADOTree and DTTableTree components. Works in the versions of RadStudio 2010 to XE3.
How to use:
– Download the VirtualTreeView library from here;
– Install the 'Delphi 2010.groupproj' components of the VirtualTreeView library;
– Install the DynamicTreeView components from 'dttreeviewd14d.dproj':
– Do not forget to add the respective paths in Delphi> Tools> Options> Delphi Options> Library.
DynamicTreeView and VirtualTreeView are free to use.
Size: 245 KB