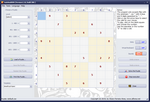 Sudoku, sometimes written Su Doku, is a game based on the logical placement of numbers. The goal of the game is to place numbers from 1 to 9 in each of the empty cells in a grid of 9×9, consisting of 3×3 subgrades called regions. The puzzle contains some initial clues, which are numbers inserted into some cells, so as to allow induction or deduction of numbers in cells that are empty. Each column, row, and region can only have a number from each of 1 through 9. Solving the problem requires only logical reasoning and some time. Problems are usually classified in relation to their realization.
You can choose a puzzle by level of difficulty. Sudoku8000 has 8000 puzzles to choose from and all have a solution.
The program is available in German, Spanish, Finnish, French, Hungarian, English, Italian, Polish, Portuguese, Romanian, Swedish and Turkish.
Special thanks to Gary Darby (www.delphiforfun.org) for providing the source code for his Sudoku program.
version 1.3.0 -♣- Windows -♣- 10,57 MB